THe Halpin Group Workshops
For those that find The Customer Prevention Culture compelling and want to introduce the content and concepts to their colleagues, Tom can be hired to speak, facilitate or lead a workshop.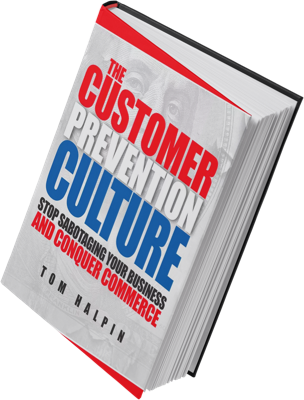 Get the Book
Workshop content includes:
Transforming From The Customer Prevention Culture℠ to The Culture of Commerce℠ – How to Transform Your Workplace Environment and Eliminate Friction Throughout The Customer Life Cycle
The Sales Engine℠ – How to Build Quick Wins and Accelerate Sales Predictability by Applying a Business-Agnostic, Irrefutable Framework
Rock Your Message – Learn How to Create Powerful Commercial Messages that Leave a Mark!
Directed Conversations & Active Listening – How to Lead Dynamic Customer Meetings and Advance Opportunities in a Meaningful Way
Managing Customer Conversations – Sales Pros are Introduced to a Defined Selling Process to Advance Opportunities to Deal or No Deal. Consequently, Customers Experience Organic Conversations That Serve Their Needs and The Salesperson Stands Out in the Process.
Values Form Culture – Cull out values unique to the company to extract the organization's distinctives. Values inform team behavior, an organizational way of life and, ultimately, shape how customers feel when doing business with you. Values Form Culture is one of the five principles foundational to The Culture of Commerce℠ and key to cultural transformation. *Note – This works best as a facilitation session or internal workshop.
Stay turned for upcoming workshops!